As the shelter-in-place restrictions continue to change the shape and pattern of our days, and we each do our part to slow the spread of COVID-19, many of us are feeling stressed and anxious about our health, wellness, wellbeing, and even our futures. 2020 has ushered in trying and uncertain times that have left all of us stressed about the myriad life-changes involving employment, unexpected homeschooling, and the intermittent scarcity of goods and essentials. As the promise of normal life, good weather, and the opportunity to see and be seen by our loved ones approaches, I find myself contemplating my appearance and the changes we have all undergone as stress levels rise and routine personal maintenance has been out of our reach.
While juggling recent changes in my own life including managing my plastic surgery and medspa practice remotely while maintaining the employment of staff, treating patients through telemedicine and in person, not to mention homeschooling three busy teenagers, I have discovered new lines and wrinkles (that is an understatement) that weren't there weeks ago.
Exercise, a little sun, and healthy meals at home can go a long way to reducing stress but in times like these, we may need a little more support. Facial rejuvenation through Botox and dermal fillers will be available again soon and can help us turn back the clock on stress and aging skin and correct smile lines around the mouth leaving us with a more rested and youthful appearance overall.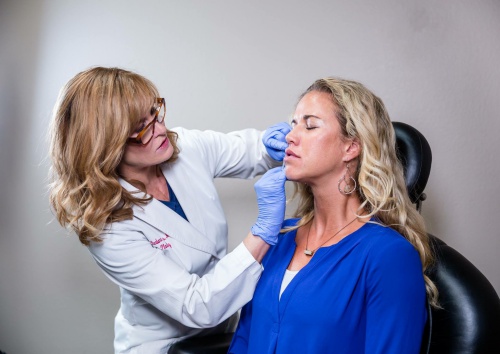 Botox works by blocking nerve signals in the muscles, temporarily inhibiting movement of selected muscles in the face. After Botox, wrinkles may be softened, reduced, or even removed. Dermal fillers are substances designed to be injected beneath the surface of the skin to add volume and fullness. There are many types of fillers and each with specific features that make it ideal for treating certain areas of the face. Popular dermal fillers include Restylane®, Juvéderm®, and Belotero®. These fillers are made of a naturally occurring substance called hyaluronic acid which is naturally found in some tissues in the body that add plumpness to the skin.
Fillers such as Radiesse® consist of calcium hydroxyapatite, which is a calcium product. They are made to enhance cheekbones, define the jawline, or fill in hollow areas on the face. Each filler has specific features that make it ideal for treating certain areas. Some are better for smoothing fine lines on delicate skin, while others work best for treating deep creases in the nasolabial folds. The only way to be sure you're getting the right filler for you is to talk with a qualified practitioner, who can evaluate your skin, review your health history, and select a filler based on your unique facial anatomy and aesthetic goals.
We are available 9 am-12 pm Monday through Saturday via phone, Zoom, or Facetime. For urgent issues such as cuts, bites, broken noses, falls please call (925) 283-4012. If you would like to schedule an online consultation regarding surgical procedures, lasers, Botox, and fillers, please call our office at (925) 283-4012. If you would like to purchase skincare products we are now offering mail or hand delivery directly to your door!